BIOPHARMARTIS is a globally focused organization as an affiliate of HYUNDAI PHARM GROUP.
(www.biopharmartis.com)

① Established in 2009.
② In charge of the entire global business on behalf of Hyundai Pharm.
③ Performs its roles as a developer, a manufacturer and a distributer in the overseas market.
④ Develops projects focusing on platform technologies and sole development.
⑤ Utilizes formulation technologies that do NOT infringe the original formulation patents.
⑥ Global Business model of Biopharmartis as below




1. EXPORTING FINISHED PRODUCTS


Global business division of Biopharmartis is constantly moving into overseas expansion through world-wide permission for registration of various finished products manufactured by Hyundai Pharm.

For instance,

MOOL-PAS

, a leading brand in Hyudai Pharm, is in process of registration in Turkey with an export contract (USD 90,000, and for 5 years) and this was exported to Hong Kong successfully.


Minoxyl (Minoxidil)

, which occupies over 85% of the domestic market share, has been successfully sold in Vietnam and Hong Kong after registration.

Varosc (Amlodipine)

is a product for hypertension and has been exported to Hong Kong and Vietnam.




2. TECHNOLOGY TRANSFER (OUT LICENSING)


A number of countries already saw the value of specialized technologies of Biopharmartis based on own core-technologies. Especially, the products, which bypassed the original patents, are receiving attention in the world after successful technology transfer contracts with Europe and Central & South America.



Tamirin(Galantamine SR)

, which bypassed the original formulation patent as well, is currently in process of registration in 20 countries including Central &South America. Also, Biopharmartis recently signed on the technology transfer agreement as to

Pramipexole SR

with a German company for whole European market as well as the other countries. Furthermore,

Ibandronate, Telmisartan COM

and the other products based on our own core technology are in process of negotiating about out-licensing.

Biopharmartis will keep developing plenty of products that the market wants, and be always ready to discuss about business collaboration with any company in the world.




3. DIRECT MARKET ENTRY


Biopharmartis also enters into the overseas market directly.

For example,

Surfolase (Acebrophylline)

was an in-licensed product from the original company in 1998 and Biopharmartis is manufacturing with API supplied by original company around for 15 years. Biopharmartis has recently got the marketing authorization for China and East Asia. As the compound was not launched in China, Biopharmartis should conduct the clinical trial. According to the schedule, Biopharmartis estimate that it is going to be launched late of 2015 in China. Therefore, we are highly expecting superior improvement in the market of China with this opportunity.

Choline alfoscerate IR (One of CNS products) is expected to be launched in China in 2013 and three generis are in process of the product approval currently. It is expected that the market of this product will be expanded more for 3~4 years after launching the original product and Biopharmartis plans to launch

Choline alfoscerate SR

(as IMDs) after market puberty.

Also,

BPS-015

(as IMDs) of Biopharmartis is supposed to enter into the market of US and Europe in 2015.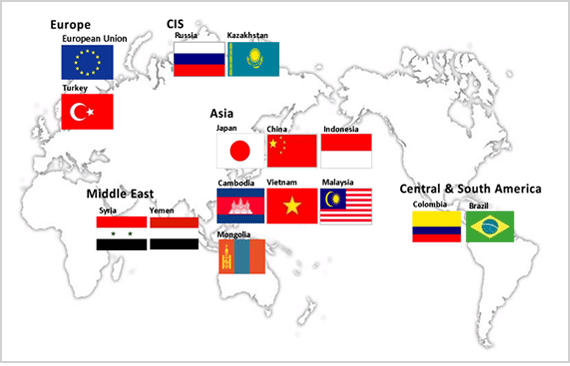 Current or potential partners of Biopharmartis (as of January, 2013)